Home Owners
There is no cost to our members for using this referral service.
RepairTime is convenient and simple to use. To begin, we ask you to complete the Member Registration that is quick and easy. Second, we ask that you Invite Service Providers you have used in the past 12 months to become a RepairTime service provider. Third, we ask that you Invite New Members (friends, family and neighbors) to join the RepairTime network.
Your Home Services Network built by You - for You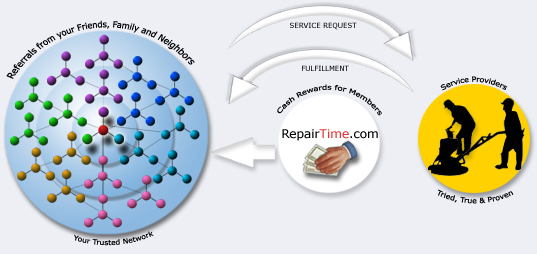 As you build your network with friends, family and neighbors the network of reliable service providers will grow. You have a great landscaper, your neighbor has an awesome handyman, your friend has an affordable plumber, and your brother has a dependable electrician. Through the RepairTime network, you are now connected with these trusted service providers.
After you are registered, you are encouraged to use the RepairTime network anytime you need to hire a home repair or home improvement service provider. Service Requests can be submitted online 24/7. As members build their networks, the service provider referrals you receive will be from people you know for service providers they have used.